Paper Car Contest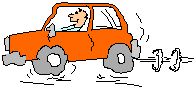 Description The building of cars from only three sheets of copy paper, glue and axles is a challenge that incorporates the spirit of competition as well as the knowledge of construction techniques that contribute to car speed. The car race makes use of physical laws, time, speed and distance. This project involves the construction of paper cars, the racing of the cars in the home classroom to gather data, and sharing data with other sites. Students will create a car according to specifications, conduct races, record race data, and prepare data tables and spreadsheets that communicate the results of the races.

Grade Level: All levels

Author: Linda Robinson lindar@mcn.net



Standards Addressed
NCTM Standards
2. Mathematics as Communication
7. Computation and Estimation
10. Statistics
13. Measurement

National Science Education Standards
TEACHING STANDARD B:
Focus and support inquiries while interacting with students.
Orchestrate discourse among students about scientific ideas.
Challenge students to accept and share responsibility for their own learning.
TEACHING STANDARD D:
Structure the time available so that students are able to engage in extended investigations.
Create a setting for student work that is flexible and supportive of science inquiry.
TEACHING STANDARD E:
Enable students to have a significant voice in decisions about the content and context of their work and require students to take responsibility for the learning of all members of the community.
Nurture collaboration among students.
Structure and facilitate ongoing formal and informal discussion based on a shared understanding of rules of scientific discourse.
CONTENT STANDARD B:
Motion and forces.
CONTENT STANDARD E:
Abilities of technological design.

Go to activity

To register for the activity, complete the registration form and e-mail it to the above address.