Lesson Four
Introduction to Electronic Mailing Lists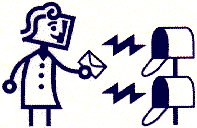 Being able to communicate as a group is a powerful function of the Internet. This lesson takes a look at the use of mailing lists for group communications.

Lesson Objectives
- To introduce the functions of a mailing list and the issues to consider before joining one.
- To introduce the cultural and netiquette aspects of mailing list interaction.
- To subscribe to a mailing list, read messages and unsubscribe.

Introduction to Mailing Lists
This section provides an introduction to the general functions and procedures to follow when using a mailing list.

Finding Mailing Lists
Information on where to find mailing lists is given in this section.

Subscribing and Unsubscribing to Mailing Lists
How to subscribe, unsubscribe, some common mistakes to try to avoid, and other issues to consider when joining a mailing list.

Using Mailing Lists
How to use a listserv, tips on interaction, and what the heck do people mean by "flames" and "FAQs" anyway?

Message Handling Skills
Tips on organizing messages are provided here.

Skillbuilders
These are extra exercises designed to help you consolidate some of the concepts introduced in this lesson and to expand on some other interesting areas related to this lesson.

Checklist
I can:
- Subscribe to a listserv or other list.
- Participate in a group discussion.
- Unsubscribe from the list.